Join top Medicare enrollment experts for four intensive days of hands-on enrollment training that solves real world enrollment problems.
Take the frustration out of enrolling and credentialing! Get step-by-step training and answers to your most pressing questions. Whether you work at a physician office, home health agency, hospital, rural health clinic or any other setting, this is the only training event that will help you master the enrollment process and ensure uninterrupted billing!
Connect with more healthcare leaders within the industry than ever before. You will have the chance to learn from the nation's leading enrollment experts.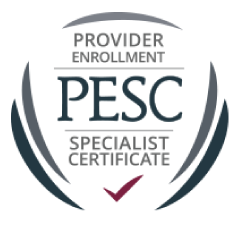 Prove your worth.
More than just enrollment training! Save on $150 off the cost of the assessment by registering to attend the Provider Enrollment Forum! The Provider Enrollment Specialist Certificate (PESC) exam is now included in your registration! Finally a way to validate your enrollment expertise! Take all the material and knowledge you'll learn at the forum and put it to the test! Demonstrate your important role in ensuring successful enrollment and uninterrupted revenue.
With four intensive days of hands-on training with
our nationally-recognized experts, you'll:
Get the first word on PECOS and NPPES updates and next generation applications that have been implemented due to input from participants at this event
Recognize the warning signs that may cause deactivation, revocation or denial to your organization's enrollment
Get a side-by-side, field-by-field demonstration of how to fill out each 855 paper form and its online PECOS equivalent
This is your only chance to network with the nations top enrollment experts. They will provide you with real-life answers to your organization's unique enrollment problems. You will have the opportunity to network with peers from other states and provider settings to discover tips and best practice strategies for efficiently managing enrollment and credentialing workloads!

PLUS Preconference day tailored to beginners - get up-to-speed on the basics to prepare for the main conference!
Past attendees have consistently given this conference our highest live-event ratings because of the clear, concise guidance they get from our expert speakers. People return to this conference year after year to make sure they have the most up-to-date information to get new enrollment applications and changes approved the first time — so should you!
If you've ever had a Medicare or commercial plan enrollment challenge, this Forum will solve them once and for all — and it's ideal for both beginners and experienced professionals.
Just hear what our past attendees had to say:

The information on compliance was thorough and was consistently reiterated throughout the conference. The speakers engage the attendees and are clearly the experts in their field.
Bobbie D.
Payer Credentialing Manager


I really enjoyed the conference overall. The speakers were content experts who shared their experiences working within the systems and I found this to be most helpful.
Brandy G.
Operations Support Specialist


This was my first conference with Decision Health and I am new to Medicare Credentialing. I absolutely loved it! I gained so much knowledge and insight, and met new people. I will attend another in the future.
Chloe C.
Credentialing Specialist


I can't imagine how difficult it would be to educate participants when they vary by provider type and level of experience/knowledge about provider enrollment; however, [the speakers] did an AMAZING job! While regulations, guidelines, and information are critical to what we do they can be less than exciting; yet, they maintained everyone's attention, and even threw in some humor which was needed!
Teresa M.
Provider Enrollment Manager


There was so much to like...I liked that all the speakers were willing to talk to you and try to help you with whatever issue you had.
Corbi R.
Credentialing Enrollment Specialist

This is our third time attending one of these conferences and we always learn something new. Giving time for questions and answers is extremely valuable.
Mary Ann V.
Manager
Previous
Next

3+ hours of dedicated Q&A
directly with experts

Step-by-step
beginning to end enrollment process

Online PECOS vs. print
enrollment demonstration
side-by-side